Past Productions Playbill 1 Jan-June 2006: - On looking closer
Now, perhaps more than ever in the past decade, there is an explosion of theatre everywhere not just as part of the comfort zone but as a place to feel deeply, to look more closely at what?s happening in the world, to learn to discern what lies behind the facade we are shown, to come together as a community.
The plays we have chosen for 2006, some old, some new, some funny, some dramatic, all offer us ways of looking closer. We invite you to join us in this exploration.
Current and Forthcoming productions. Past Productions: BADJELLY THE WITCH, THIEF RIVER, Love Potions, Comedy Double Bill: ANY PORT IN A STORM + THE TITANIC ORCHESTRA, A BEAUTIFUL LIFE, Caucasian Chalk Circle, THE CLUB, NOT ABOUT HEROES, JOURNEY'S END, New Directions 2006: Singing the Lonely Heart, The Man Who & Family Stories; Directors Workshop - The Lady of the Camelias | Directors Workshop Readings: The Lady of the Camelias & Fencelines | The Voysey Inheritance | A Cultural Kebab Shakin the Tree & Christmas Party | Laughter on the 23rd floor.
---
New Theatre presents a delightful adaptation of Spike Milligan's much-loved children's book
BADJELLY THE WITCH
Spike Milligan adored the secret, magical world of childhood and his writing reflects an innocent delight in all things silly and fun. BADJELLY THE WITCH combines all the classic elements of fairy-tales with Milligan's unique 'Goonish' sense of humour.

Meet 6-year-old Tim and 5-year-old Rose, searching for their cow Lucy who has been stolen by Badjelly "the meanest, most wickedest witch in the whole world." Along the way they have many adventures and meet many wonderful characters including Binklebonk the Tree Goblin, Mudwiggle the World's Strongest Worm, Dulboot the Giant, Jim the Eagle and Dingle the Mouse (who used to be a Banana!).

BADJELLY THE WITCH is suitable for all ages from 4 to 94!

Adapted by Alannah O'Sullivan
Directed by Rosane McNamara
Cast: Richie Black, Isabel Burton-Prior, Vanessa Caswill, Uma Kali-Shakti, Jodine Muir, Martin Schultz-Moller, David Walker
Set: Barry French Lighting: Tony Youlden
Costumes: Noel Camilleri
5 - 21 JANUARY 2006
THURSDAY - SUNDAY @ 2PM
TICKETS: $15 (BOOKINGS 9519 8958)
---
2006 Mardi Gras umbrella event

THIEF RIVER
by Lee Blessing
By arrangement with Hal Leonard Australia Pty Ltd, on behalf of Joseph Weinberger Ltd London


As part of the 2006 Sydney Gay & Lesbian Mardi Gras Festival, new theatre proudly presents THIEF RIVER, a compelling drama of love and denial in the spirit of 'Brokeback Mountain'.

One summer day in 1949, in an abandoned farmhouse on the outskirts of the fictional Mid-Western town of Thief River, two teenage boys are confronted by a desperate situation that will shadow them for the next fifty years.

Written by Lee Blessing, Pulitzer Prize nominee and one of America's leading contemporary dramatists, this humane and profoundly honest play charts the consequences of that fateful day and the changing social values and individual choices that shaped two men's lives.

THIEF RIVER is a personal journey of enduring friendship and sexual desire set against the broader landscape of half a century of gay history.

Directed by Leigh Rowney and Michael Briggs
Cast: Gianluigi Carelli, Sam Firth, Barry French, John Keightley, Rich Knighton, Frank McNamara
2 FEBRUARY - 3 MARCH 2006
THURSDAY - SATURDAY @ 8PM, SUNDAY @ 5.30PM
TICKETS: $25 full / $20 concession (generous concessions for group bookings of 10+)
LOVE POTIONS
by Alana Valentine
directed by Jessica Symes


Boys and (particularly) girls come out to play in LOVE POTIONS, by well-known Sydney writer Alana Valentine, a very hot, very cool take on the nexus between sex and food.

LOVE POTIONS gives a tender, funny and passionate glimpse of human nature at its most vulnerable. Three couples, make-or-break relationship moments, seductions over breakfast, lunch and dinner, and the perfect aphrodisiacs: alcohol, chocolate and tea!

With a pre-coital first half and a post-coital second, plus lots of naughty and very sexy bits in between, LOVE POTIONS promises a night of delights for the orally fixated in us all.

Cast: Florette Cohen, Lucy Waldron-Brown, Geraldine Timmins, Matt Edgerton, Alex Vaughan, Aimee Falzon

4,5 11,12 18,19 25,26 FEBRUARY 2006
SATURDAYS @5PM SUNDAY @9PM
TICKETS $15
DOUBLE THE LAUGHS: TWO COMEDIES, ONE NIGHT
ANY PORT IN A STORM
by Peter Shelley
Directed by Lloyd King
Cast: Melissa McMahon, Neil Phipps, Matt Young by Hristo Boytchev
Directed by Peter Talmacs
Cast: John Farndale, Alan Faulkner, Kim Knuckey, Jill McKay, Frank McNamara
Set: Tom Bannerman Lighting: Tony Youlden Costumes: Louise Hunter


First there's the premiere of a wacky and wild new Australian play ANY PORT IN A STORM by Peter Shelley : two scientists, an island lighthouse, a raging tempest, an escaped murderer, and a very strange thing in a tank. Jealousy, passion, betrayal and sexual frisson run rampant as naked elements are unleashed and film noir cliche and melodrama meet in the murky world of marine biology!

Peter Shelley's ANY PORT IN A STORM is a very funny tongue-in-cheek tribute to film noir and daytime soaps with a bit of sitcom thrown in the mix. Think 'Cape Fear' meets 'Days of our Lives' meets 'Will & Grace'. It's fast, furious, totally over-the-top silliness.
Then it's the Australian premiere of a cult favourite from Europe THE TITANIC ORCHESTRA by Hristo Boytchev: four tramps, one magician, a deserted railway station, a train that never stops, and a trunk with a mind of its own. There is no Titanic. There is no Orchestra. Just alcohol, murder and magic.

THE TITANIC ORCHESTRA is a gloriously mad hour full of existential angst, slapstick clowning and witty words. It's Beckett, Stoppard and the Marx Bros. all rolled into one. And you get to throw stuff at the actors!

16 MARCH - 9 APRIL 2006
THURSDAY - SATURDAY @ 8PM, SUNDAY @ 5.30 PM
---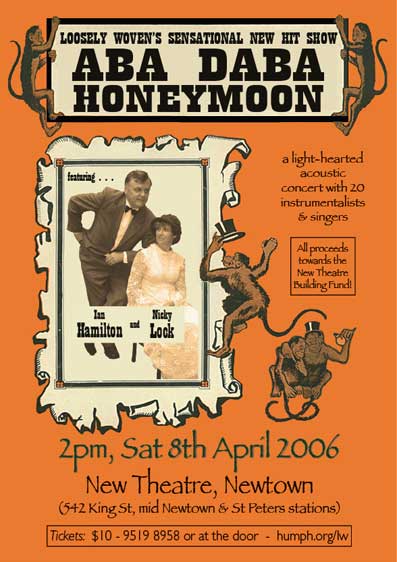 At 2pm on Saturday 8th April, another acoustic folk concert by Loosely Woven called 'Aba Daba Honeymoon' will be taking place at the New Theatre to raise funds for our Building Fund.

On this occasion Loosely Woven will consist of 20 instrumentalists and singers with the list of instruments including fiddles, recorder, flute, guitar, mandolin, accordion, concertinas, keyboard & percussion.

As usual, the concert is truly acoustic (no PA!) so you will have a rare 21st century opportunity to hear the actual sounds of violin and guitar strings, concertina reeds, recorders, flutes and human voices (including your own!).

Tickets: $10 (9519 8958) or at the door.

More information and full program at: Loosely Woven
---
Fully-staged reading (two performances only)
A BEAUTIFUL LIFE
by Helen Howard and Michael Futcher

A break-in at the Iranian Embassy in Canberra sparks a terrorist witch-hunt.

Based on actual events surrounding the break-in at the Iranian Embassy in Canberra in 1991, this ground-breaking Australian play weaves the ensuing legal battles and the personal histories of the Iranian refugees involved to create a dynamic, insightful and powerful study of two cultures in conflict and the gap between the dream and the reality of creating 'a beautiful life' in a new country.

This presentation, directed by Alex Broun, is a fully staged and rehearsed moved reading and provides an opportunity to experience an important contemporary Australian drama 'off the page and onto the stage'.

8PM WEDNESDAY 10 May 2006
8PM WEDNESDAY 17 MAY 2006
PLEASE NOTE: BOTH PERFORMANCES ALMOST SOLD OUT, LIMITED SEATS AVAILABLE.
NSW Board of Studies HSC Drama Stage 6, Topic 2: Contemporary Australian Drama
---
To mark the 50th anniversary of the death of Bertolt Brecht new theatre presents
THE CAUCASIAN CHALK CIRCLE
"Terrible is the temptation to do good!"

Drawn from Chinese folklore and the biblical story of King Solomon, THE CAUCASIAN CHALK CIRCLE is a parable for our times.

A war has ended. A Caucasian village lies in ruins. Two communities are squabbling over the best use of the land, pitching tradition against progress.

A decision is made but is it the right one?

To justify the choice a mysterious balladeer leads this motley crew of peasants in retelling the mythical tale of 'The Chalk Circle'.

Written in 1948 while Brecht was in exile in the US during the dark days of McCarthyism, this insightful play from the master of epic political theatre is surprisingly gentle, funny and poignant.

A cast of 22 actors and musicians collaborate with newly appointed Artistic Director, Louise Fischer and composer Heinz Schweers to bring this classic of 20th century drama to life with a bold contemporary vision.
"The performances were great and the singing was brilliant, with the musical accompaniment of saxophone and violin. Don't worry about understanding Brecht's story; go see it for the pomp and ceremony of the action. He would have wanted that." Bernadette Tong, The Program www.theprogram.net.au

"This is indeed epic theatre, in the true, classical sense, powerful but at the same time redolent, sophisticated and artful. It confirms Brecht as one of the great masters of stage. Frank McGuinness' meticulous adaptation, which doesn't miss a trick, has been consummately realised by [director] Louise Fischer ... not to mention her remarkable, versatile cast of 22 ... Plaudits again for New Theatre which has shone a light of hope since its inception in 1932." Brad Sykes, Triple R FM 88.5

THE CAUCASIAN CHALK CIRCLE
by Bertolt Brecht
Adapted by Frank McGuinness
Directed by Louise Fischer
Composer/Musical Director: Heinz Schweers
Associate Directors: Fiona Hallenan, Kate Wild
Set: Barry French
Lighting: Tony Youlden


Cast: Ashley Adkins, Adrian Barnes, Nathan Brown, Debra Bryan, Ray Chong Nee, Jay Finocchiaro ,Adam Fraser, Sam Galea, Chiara Giuliani, Emma Harris, Daryl Heath, Charlotte Jane, Lisa Kowalski, Marnie Long, Grant Lyndon, Rita McCormick, Brinley Myers, Leigh Rowney, Adam Salter, David Sutton, Sandra Velini, Cheryl Ward

Musicians: Joanna Argall, Ben Carey, Laura Corney

4 May - 3 June 2006
THURSDAY - SATURDAY @ 8PM, SUNDAYS @ 5.30PM
Tickets: $25 full / $20 concession / $15 school groups / $10 preview Wed 4 May

Sunday 7 May @ 5.30pm - FREE for all unwaged, students, pensioners, Seniors, MEAA, AWG and YHA members (id required)

Bookings: 9519 8958
NSW Board of Studies HSC Drama Stage 6, Topic 5: Brecht
---
Fully-staged reading (three performances only) by David Williamson

The classic comedy of nasty tricks and dirty deeds in the world of Aussie Rules football.

MONDAY 19 JUNE @ 7.30PM [note early start time] - LIMITED SEATS AVAILABLE.
TUESDAY 20 JUNE @ 7.30PM [note early start time] - LIMITED SEATS AVAILABLE.
WEDNESDAY 21 JUNE @ 7.30PM [note early start time]- SOLD OUT!

TICKETS: $10
NSW Board of Studies HSC English (Standard): Module A, Elective 2
---
The immortal
JOURNEY'S END
by R C Sherriff
Directed by Frank McNamara
Set Design: John van Rooyen
Lighting Design: Tony Youlden and Matt Ryan
Costume Design: Stewart Luke
Sound Design: Wayne Richmond
Cast: Raoul Agapis, Matthew Ashby, Evin Donohoe, Barry French, Matthew Hyde, John Keightley, Angus Murray, Dallas Palmer, Thomas Stewart, Steve Vasquez
"There's not a man left who was here when I came"
Set in 1918 on the eve of what would prove to be one of the most successful German offensives of World War 1, and drawn from the playwright's own experiences in the trenches of the Western Front, JOURNEY'S END is a gut-wrenching and deeply insightful study of one small group of British soldiers who followed the call of patriotic duty into the hell of the Somme battlefields.
Gritty, wryly funny, profoundly honest, JOURNEY'S END is a slice of history but its underlying themes are just as relevant in today's conflict-ridden world. The consequences of war remain the same and the tragedy is no less wasteful. This play will move audiences to tears
Last year's sellout revival season in London won unanimous praise:
Humorous but ultimately heart-rending - Independent on Sunday Leaves one feeling overwhelmed - Michael Billington, The Guardian The last ten minutes will stay with me forever - Curtain Up
15 JUNE - 15 JULY 2006
THURSDAY - SATURDAY @ 8PM, SUNDAY @ 5.30PM
---
Fully-staged reading (one performance only)
NOT ABOUT HEROES
by Stephen MacDonald

A poignant and evocative play about a meeting between World War I poets Wilfred Owen and Siegfried Sassoon

8PM WEDNESDAY 28 JUNE 2006

TICKETS: $10
(Photograph: Frank Hurley, Courtesy Australian War Memorial Negative - E00833)
---
NEW DIRECTIONS 2006
20 July - 16 September 2006
---
Directors Workshop Showcases
Performed Readings - open to public - the showcases are designed for directors who are interested in being accredited by new theatre.
THE LADY OF THE CAMELIAS
by Alexandre Dumas Fils
Adapted and directed by Peter Shelley

The classic romance of doomed love between a courtesan and her innocent younger suitor in 1848 Paris.

Readers: Marie Armstrong, Richie Black, Suzanne Hauser, John Keightley, Richard Mason, Kath Perry, and Meredith Porteous.

8pm Wednesday 23 August
Tickets (at the door) $10
FENCELINES
by Peter Anderson
Directed by Uma Kali Shakti

Contemporary Australian drama that explores the concerns of a farming community dealing with refugees.

8pm Wednesday 13 September 2006
Tickets (at the door) $10
---
Deceit is a full-time job!
The Voysey Inheritance
by Harley Granville Barker
Directed by Kevin Jackson

Set: Tom Bannerman
Lighting: Michael Schell
Costumes: Kim Scott
Sound and Composition: Pete Neville
Cast:Matt Ashby, Joseph Beal, Mark Butler, Florette Cohen, Anita Ercg, Gertraud Ingeborg, Frank McNamara, James Mitchell, Oliver Wenn, Gemma Northover, Jennifer Perry, J. W. Reynolds
The Voysey family is wealthy, respected and influential. The men love power, the women love comfort. Then Edward Voysey discovers his father has been illegally speculating with clients' money. As he attempts to make amends for his father's greed and corruption, he comes into conflict with other family members who would rather hide the crime than risk public humiliation and financial ruin.
The Voysey Inheritance combines a great family drama with biting social comedy. Though written over 100 years ago, the acute observations on a culture of hypocrisy, greed, flexible ethics and self-interest still resonate today. Granville Barker has been called 'the father of 20th century British theatre' and his influence can be seen in the plays of Coward, Rattigan, Osborne and Stoppard.
The revival at London's National Theatre earlier this year earned rave reviews:
"An astonishing play" The Guardian
"This blissful satire exposes the frightening underbelly of those who control wealth and power without accountability" Daily Express
28 September - 4 November 2006
THURSDAY - SATURDAY @ 8pm, SUNDAY @ 5.30pm
TICKETS: $25 full / $20 concession
$10 WEDNESDAY (preview): 27 September 2006
FREE SUNDAY: 1 October 2006
The Voysey Inheritance was generously supported by Summer Hill Wine Shop.
---
---
Chicken, Beef or Lamb?
A Cultural Kebab
A community festival celebrating 125 years of Middle Eastern migration to Australia.
Sydney's most exciting established and emerging Middle Eastern artists are set to tell their stories through original dance, song, music, film, poetry and drama.
The evening performances will feature a variety of short pieces, including musical ensembles from local families and professional artists, and solo and group performances of original compositions - from poignant ballads to modern rhyme and beat poetry, dramatic sketches and dance.
The show will be fun and informative including inspirational stories from guest speakers about Middle Eastern immigration and family life.
The proceeds from Chicken, Beef or Lamb? A Cultural Kebab will support aid agencies working in Lebanon.
FRIDAY 10 November and SATURDAY 11 November 2006 @ 7.30pm
Tickets $30/$20 (including supper - vegetarians catered for).
Bookings 9519 8958.
A Cultural Kebab is supported by The City of Sydney
---
Neil Simon's hilarious comedy
Laughter on the 23rd Floor
Directed by Alice Livingstone


Reviews:
"The script is a delight ... the ensemble cast do a great job. Good stuff." Drum Media
"The laughter came often and easily. Get along to King Street. You'll have a good night out!" Veronica Hannon, SX
"Excellent production ... classy and accomplished. Just the thing for a pre-Chrissy outing." Diana Simmonds, StageNoise.com
"If you like Seinfeld, you'll love Laughter. It's side-splitting humour ... turned up to 11." Sydney Stage Online
It's 1953; comedian Max Prince is the funniest man on US television and his writers are the best in the business, but things are about to change.
The network bosses want Max to dumb down his show so that middle America gets the jokes and the advertisers can sell more soap. Meanwhile, Senator Joe McCarthy is scaring the pants off the country with his 'reds-under-the-beds' paranoia.
As the bean-counters close in and the right-wing fear-mongering spreads, Max and his gang of brilliant lunatics still manage to keep on joking up to the inevitable bitter end.
Neil Simon learnt his craft writing TV skits for the great Sid Caesar with some of the best joke-smiths of all time: Mel Brooks, Carl Reiner, Larry Gelbert and a precocious young talent called Woody Allen. Laughter on the 23rd Floor is his hilarious and touching behind-the-scenes homage to the golden age of American television and the crazy writers' room that became known as 'the Harvard of comedy'.
Cast: Jarred Baugh, James Bean, Les Chantery, Barry French, Beccy Iland, Lynden Jones, Elisha Oliver, Nicholas Papademetriou, Oliver Wenn
Set: Matthew Halpin; Lighting: Spiros Hristias; Costumes: Aasa Neeme
Production Manager: Martin Kelly; Stage Manager: Uma Kali Shakti; Director's Assistant: Beck Carrig
22 November - 17 December 2006
WEDNESDAY - SATURDAY @ 8pm, SUNDAY @ 5.30pm
TICKETS: $25 full / $20 concession / $17 groups of 10 or more
Bookings: 02-9519 8958
SPECIAL OFFER for TAKEAWAY THEATRE MEMBERS AND FRIENDS
Getting There
542 King St, Newtown, NSW, Australia.

midway between Newtown & St Peters Railway Stations

bus 422 from Railway Square Sydney

bus 370 from Coogee or Leichhardt

---
Tickets
Available at the Door
Box Office opens 1 hour before show.
Bookings: 02-9519 8958
Payment:

Cash at Box office on the night. Unpaid for tickets may be sold if not collected 20 minutes prior to commencement of show.
Credit Card (Mastercard/Visa/Bankcard only) at time of phone booking( Credit Card Payment Fee: $1/ticket applies)

Prices

summer holiday special: all tickets $15
main season plays: $25 ($20 concession)
new directions: $20 ($18 concession)
Staged Readings: $10 (available at the door only, no bookings, no credit cards)
Previews / Workshops: by donation
FREE SUNDAY - The first Sunday performance of every main season is free for the unwaged (pensioner, unemployed, full time student id required)
---

Last chance to take home a part of Australia's Theatre History - Old Seating available on E-Bay
---
Submission of Scripts
The New Theatre welcomes the submission of new scripts.
Please address them to the administrator and include a stamped reply envelope (if the script is to be returned).
Scripts are assessed by the playreaders and artistic director against the Theatre's criteria.
If a script is considered to have merit, but the New Theatre is unable to stage it, other suitable venues may be recommended
---
Administration
Post: New Theatre (Sydney) 542 King St Newtown NSW 2042
E-mail: newtheatre@bigpond.com
Phone: (+612) 9519 3403
Fax: (+612) 9519 8960
---
Donations
New Theatre is able to receive donations through a listing on the Register of Companies under section 78(1) of the Income Tax Assessment Act of 1936.
Donations of $2.00 or more are eligible tax deductions.
Donations should be made payable to "New Theatre Fund".
Post to The Administrator, New Theatre 542 King St, Newtown NSW 2042.
Include name and address for receipt.
Enquiries (+612)9519 3403.
Education Program
Each season, New Theatre includes productions of selected plays that are currently on the HSC syllabus or that are of interest as extension activities to core studies.
These take the form of either mainstage productions, or fully rehearsed and staged readings, and both approaches are designed to lift the plays 'off the page and onto the stage' in order to give students the opportunity to more fully engage with and appreciate the dramatic nature of the texts and the themes explored.
Directors and casts are available for discussion after a performance if previously requested. Please contact the Administrator newtheatre@bigpond.com
New Theatre is always willing to consider suggestions from teachers for plays they would like to see in production. Please contact the Artistic Director newtheatre@bigpond.com
EDUCATION PROGRAM 2006
---
Fund Raising Concert
'Waltzing with bears'
1pm Saturday, 5th August 2006. Tickets: $10 (9519 8958) or at the door. Proceeds to New Theatre Building Fund
More info:humph.org/lw
---
Loosley Woven Concert & new theatre Christmas Party

$15 includes *Shakin' the Tree* concert by Loosely Woven (all funds to NT building fund) followed by festive afternoon tea with your friends from the theatre.

1pm, SATURDAY 9th December 2006
---